Can You Weld Galvanized Steel? Best Beginner's Guide
Welding galvanized steel is infamous for poor weldability and the welder's safety. But it's a popular metal, and chances are you will weld with it at some point.
This introductory article covers the basics of galvanized steel, as well as the many welding challenges and how to solve them. But let's start with the short answer:
You can weld galvanized steel with your regular equipment and procedures if you remove the coating first. Otherwise, the coating makes welding harder because it creates additional fumes and many welding defects. To control these issues, you need to adapt your fume protection, equipment, and techniques.
Simple home or small workshop projects or repairs that will take static loads are easy to weld.
However, for heavy-duty projects with demanding service conditions, it's necessary to remove the coating to get the safest welds.
After reading the rest of the guide, you will have answers to the following topics:
---
First, let's see the basics of galvanized steel.
What is galvanized steel?
Galvanized steel is typical steel covered with zinc to acquire strong and long-lasting protection from rust. Galvanized steel is popular because it's a cheap and effective method, the service life for most applications is around 50 years.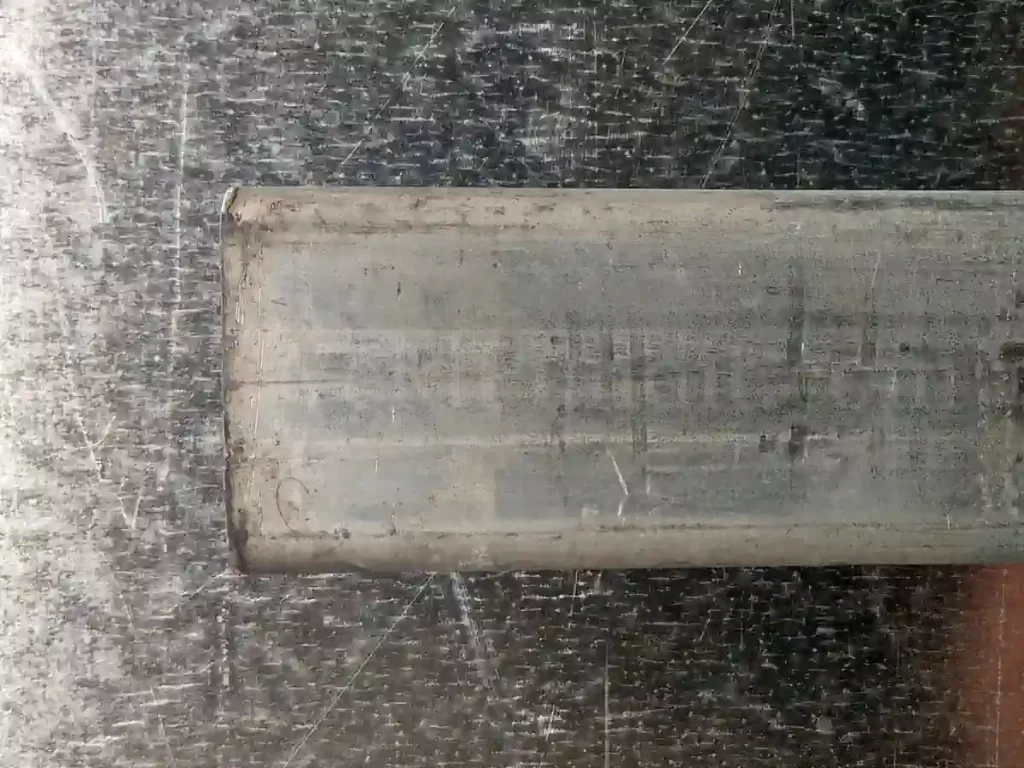 Most often, the steel under the coating steel is mild steel, which is the easiest metal to weld. However, according to the service conditions of the metal, you may have medium-carbon steel or other hard-to-weld metal. But that's rare.
Galvanized steel doesn't require painting or further maintenance, even if it's lightly damaged. At the same time, it's slightly more expensive than uncoated steel.
That makes it popular for large outdoor construction applications but also for fences, ladders, roofs, pipes, etc.
It's also popular for sheet metal and small consumables such as car panels, nuts, screws, wires, etc.
One disadvantage of galvanized steel is that you must use it in applications that won't exceed 392 °F (200 °C). After that, the heat-sensitive zinc coating will lose strength and start to erode. The steel underneath has much higher heat resistance.
How galvanization protects the steel?
Galvanization is "smart" because it protects the covered steel in two ways:
The zinc coating acts as a physical barrier between the steel and the environment. This way, the air's oxygen, moisture, or other corrosion sources cannot contact the iron underneath it.
The interesting fact is that zinc can also protect slightly exposed steel. That's because zinc can absorb the tiny electrochemical reactions that create rust. This is based on the galvanic corrosion process (Wikipedia link) and works well up to 3/16″ (4.8 mm) of exposed metal.
What are the most common methods?
There are many methods to galvanize steel: hot-dip, thermal spray, galvanneal, electrogalvanization, and cold galvanization. 
Let's look at the two most popular methods:
The hot-dip method is the oldest and most widely used process, in which the steel is dipped in molten zinc. This method creates a thick zinc coating suitable for large workpieces and harsh environments. As a result, the hot-dip method provides excellent rustproofing results, suitable even for marine applications.
The electrogalvanizing method requires dipping the steel in a cold zinc solution. Then a low-voltage direct current (DC) adheres the zinc to the steel. This method creates a thin and uniform coating and is considered more zinc-plated than galvanized. Electrogalvanizing is suitable for small or thin applications such as nails, screws, car panels, etc. 
How to tell if your metal is galvanized?
It's easy to tell hot-dipped galvanized steel by its external appearance. It has a matte-gray color and a characteristic crystallized pattern known as spangle. Furthermore, additional chromic acid treatments for enhanced corrosion resistance add a green-bluish iridescent look.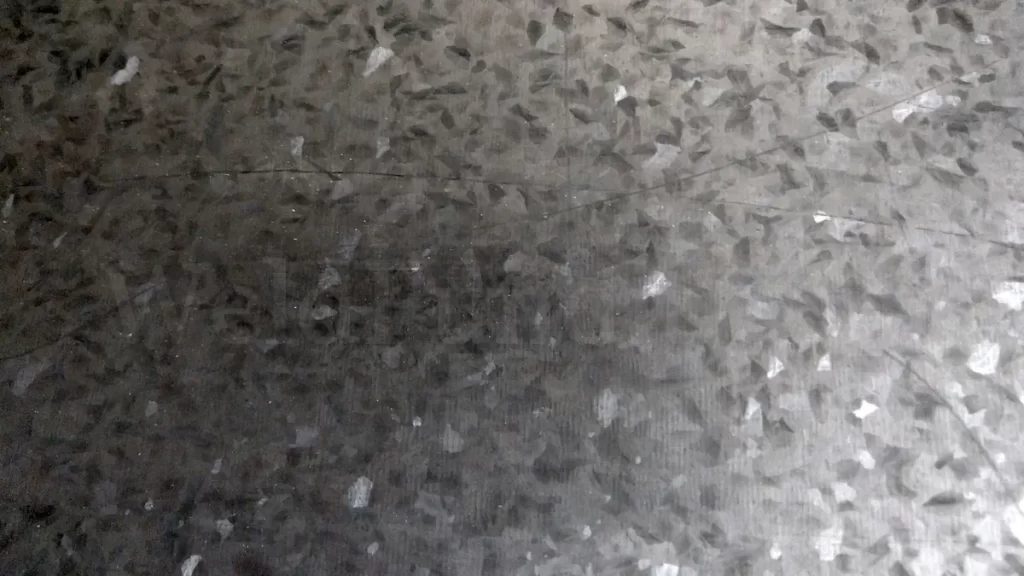 Electrogalvanized steel looks brighter, uniform, and it's very smooth without spangle. However, if the steel has a thick, rough, and porous look without spangle, you have thermal spray galvanization.
Let's see some practical ways to tell galvanized steel:
Another way to tell galvanized steel is when you grind it. The sparks will be dull red, short, and in few numbers until you get through to the steel.
Also, when you tack weld it, you will notice right away a black residue with white borders next to the tack weld. 
You will also notice the characteristic white smoke even after a few tack welds.
Finally, the sound when you weld over this coating is also characteristic.
---
Next, we'll see what happens when you weld galvanized and why it has a bad reputation.
Why is it bad to weld galvanized steel?
Welding galvanized steel is bad practice because the zinc coating has a low boiling point and generates additional white fumes.
Zinc has a boiling point of 1700 °F (930 °C). That's far lower than the puddle 3000 °F (1650 °C) or the arc 10000 °F (5500 °C). 
As a result, a large amount of zinc evaporates and combines with oxygen resulting in dense white welding fumes. 
Can welding galvanized steel make you sick?
If you inhale the fumes that arise when you weld galvanized steel, you may develop a temporary sickness known as metal fume fever. It's also called zinc chills, zinc shakes, or galvanize poisoning.
Zinc fumes can quickly saturate a workshop that lacks ventilation. Even if you weld outside but forget to position your head away from the fumes, you will still inhale a large quantity. 
Inhaling a large quantity of welding fumes in a short time period results in fume fever.
Another problem is that hot-dipped galvanization may contain chromium or lead residues, especially if it's an old workpiece. For example, old galvanized fence posts that need repairing. These elements are more harmful than zinc, even in tiny quantities.
The coating of electrogalvanized steel is almost pure zinc, without other toxic elements. As a result, these fumes are less harmful compared to the hot-dipped method.
Another thing to mention is that every time a welder gets metal fume fever, he becomes more sensitive. So the next time, an even lower fume amount can result in the same symptoms.
While metal fume fever is temporary, all welding fumes can create long-term side effects. For this, you should avoid overexposure every time you weld.
What are the symptoms of metal fume fever?
The metal fume fever symptoms are similar to the flu, for instance, headache, nausea, chills, slight fever, or even vomiting and cold sweats. They start a few hours after overexposure and depend on the amount of inhaled fumes and their composition.  
If you feel the symptoms, you must stop, get some fresh air and seek medical attention.
The treatment of fume fever consists of bed rest, hydration, and symptomatic therapy.
In most cases, metal fume fever lasts 4 to 24 hours. But in severe cases, up to 48 hours.
How to avoid metal fume fever?
To avoid metal fume fever, you must avoid inhaling the dense zinc welding fumes. The best thing to do is remove the coating or weld outdoors and avoid the fumes' path. Additionally, you can wear a welding respirator for added protection. 
If for whatever reason, you want to weld indoors, I will mention the precautions you should take to avoid the fumes, from best to least effective:
The first and most important step to avoid zinc fumes is eliminating their source by removing the zinc coating. You don't have to worry about something that doesn't exist. Remove the coating 1-3″ (2.5-7.5 cm) depending on the metal thickness. You must remove it on every surface close to the joint, not just on the side you want to weld. 
If you cannot do that, the next best thing is to use local ventilation. That's a vacuum device with a capturing hood next to the fume source (the arc) that captures the fumes and drives them outside. This way, the fumes don't escape in the workshop's air. The disadvantage of local ventilation is that it's very expensive. However, there are DIY solutions that can give good results.
After that, mechanical ventilation that recycles the workshop's air is also effective. Ideally, it's close to the welding area, and it must have a flow rate strong enough to recirculate the workshop's air several times per hour. Still, you must position yourself to avoid the fumes' path.
You can also leave open doors and windows so natural ventilation can dilute the fumes and drive them outside. However, natural ventilation requires a large workshop for acceptable results. For comparison, welding clean mild steel using natural ventilation needs a space of 25'x25'x16′ (7,5×7,5×5 m). The last digit is the minimum height. For galvanized steel, you'll need a considerably larger workshop than that. You can use a fan's help to push the fumes outside for improved results. Again, you must position yourself to avoid the fumes' path.
Finally, wearing a reusable welding respirator with P100 filters will keep any remaining fumes away. If the fumes are not too dense, these filters can capture almost all air pollutants coming from galvanized steel. A welding respirator is a supplementary measure. Without one of the previous methods, it's not enough.
Why do welders drink milk?
Many welders recommend drinking milk because calcium can remove the zinc from your body. But the truth is that there is no evidence to verify that it actually works. But even if that's true, calcium cannot do anything against all the other harmful elements in the welding fumes. So the best thing to do is avoid inhaling fumes in the first place.
---
The rest of the article is about the weldability of this steel.
Why is it hard to weld galvanized steel?
Welding galvanized steel is hard because the coating creates defects by destabilizing the arc, restricting the puddle's flow, and acting as a pollutant. The worse defects are zinc cracking, low penetration, and lack of fusion. The most frequent spatter and porosity. 
The extent of welding defects depends on the coating's thickness. The thicker the metal, the thicker the coating. 
Also, each galvanization method creates coatings with different thicknesses: 
Thermal sprayed, and hot-dipped steels have the thickest coatings. 
Galvannealed steel has a heat-treated hot-dipped coating that contains iron and is easier to weld. 
Electrogalvanized steel has a coating several times thinner than the previous methods. 
Cold galvanized steel also has a thin coating.
The most severe defect the zinc can cause is called zinc-penetration cracking. This crack happens when liquid zinc comes in contact and penetrates the weld metal and the heat-affected zone (HAZ). The HAZ is the area next to the bead. 
For most common projects, the chances of zinc cracking are very low. But, it's critical when you weld heavy-duty projects that will endure heavy loads.
High silicon content in the filler metal increases the cracking risk. 
Other serious problems zinc causes are reduced root penetration and lack of fusion. Zinc restricts the puddle's fluidity, and it cannot penetrate deep into the joint's root. Lack of fusion is when the filler metal sits on the base metal without fusing with it, most often at the bead's sides (or toes). 
Zinc vapors in the puddle may not escape to the atmosphere before it solidifies. This will cause porosity, a very common defect when welding galvanized metals. 
The zinc vapors also destabilize the arc, increasing the size and the number of spatter. Spatter will stick on the joint, resulting in a poor appearance. Spatter can also land on MIG or TIG torches, damaging them.
Zinc also increases the frequency of slag inclusions, when you use electrodes with flux material.
Finally, the coating will also interfere with the current flow through the metals. This will make the arc harder to start and less stable.
---
What is the best way to weld galvanized steel?
The best way to weld galvanized steel is to remove the protective zinc coating. This way, you avoid all the problems that the coating creates, either health issues or welding defects. Welding becomes easier, faster, cleaner, cheaper, and safer. Welding is going to damage the coating anyway, so it's best to remove it yourself in the first place.
Even for simple metal fabrications, removing the coating is faster and costs less if you must remove spatter and smoke after welding.
Even worse, if the resulting defects are more than anticipated, you may have to remove the bead and reweld the joint.
When you weld heavy-duty projects or repairs, you always remove the coating to get the strongest joints. This way you ensure that no joint will fail and prevent injuries or costly damages.
Also, without the coating, you can use popular welding processes that cannot weld over galvanization. These are described later.
However, removing the coating has its own issues.
Removing the coating
Because zinc is firmly attached to the steel, you need some aggressive ways to remove it:
Grinding is the simplest and quickest way to remove most of the galvanized coating. It's good enough for most jobs and welding procedures, but it always leaves zinc residue behind.
After that, you can use flame cleaning with an oxyfuel torch. This method doesn't leave residues, but it generates a lot of fumes. 
You can also use sandblasting if you have large surfaces to clean. But it requires full-body protection except if you use a blasting cabinet. 
Finally, you can use acids, but most are very corrosive and release harmful vapors. Safe acidic products such as vinegar take a long time to remove the coating.
Depending on the removal method you use, the coating will pollute the air with dust, fumes, or vapors.
For this, it's best to work outside, especially if you want to use flame cleaning or acids. Furthermore, keep your head away from the dust or fumes. Finally, a quality respirator with P100 filters will protect you from most pollutants except acid vapors.
If you use strong acids which are not recommended, for example, muriatic acid, you need special gas cartridges to absorb chlorine vapors. 
No matter the removal method you choose, it's best to remove the galvanized coating on every surface in and around the joint. 
That's because when the metals get hot enough, zinc will melt and vaporize even if the puddle isn't right next to it. 
If you have a tee or lap joint, always remove the coating between the abutting surfaces. 
Weldpundit has a detailed article on how to remove galvanized coatings.
---
However, it's not always possible to remove the coating. Let's take a look at this situation.
Can you weld galvanized without removing the coating?
You can weld galvanized steel without removing the coating if you: 
Modify the joint design so that the liquid or gaseous zinc can escape.
Select a process with a strong arc to vaporize the zinc inside or close to the puddle. 
Use welding consumables with strong cleaning action and low silicon content. 
Weld with techniques that burn the zinc coating before it contacts the puddle.
Always remember it's not recommended for jobs with demanding service conditions and always avoid inhaling the fumes.
Let's start with what joint modifications you can make to get better results.
How to prepare galvanized steel for welding?
If you have a butt joint, you must set a 10-20% wider root opening and weld with a wider side-to-side movement. This way, you will achieve the same root penetration as with clean metal.
Even if you weld thin metal, try to avoid closed butt joints and leave a narrow root so that zinc can escape. 
Tee and lap joints are the most troublesome to weld because:
Welding burns a larger surface area than the other joints.
Zinc cannot escape easily where the two metals touch. As a result, liquid zinc will penetrate the metals, and the zinc fumes will escape violently, passing through the puddle. 
If the metals are thick, for instance, 1/4″ (6.4 mm), you can leave a small 1/32-1/16″ (0.8-1.6 mm) gap between the abutting areas. 
On the other hand, outside corner joints create fewer problems because less galvanization is burned. 
Galvanized steel is as easy to cut as the metal underneath. However, the hot-cutting processes, for example, oxyfuel cutting, will generate a lot of zinc fumes.
---
Each welder type and consumables have significant differences when welding over galvanization. Let's see how each one performs.
Can you stick weld galvanized steel?
Stick welding is not only capable of welding galvanized steel, but the best process for the job. The arc is aggressive and vaporizes the zinc coating. The stick rods have a flux covering that greatly reduces the welding defects. Finally, it's portable and suitable for windy environments since most galvanized steel is welded outdoors. 
All stick welding rods create a strong arc and contain deoxidizing elements in their flux covering. But some are more suitable than others. 
Stick welding (or SMAW) has the advantage of cellulosic welding rods, such as the 6010 and the 6011. These rods have some strong advantages against the zinc covering:
Using the same amperage, cellulosic rods create a 60-70% stronger arc compared to other rods. This helps to evaporate the zinc that's close to or inside the puddle.
Furthermore, they generate a large amount of shielding gases. This allows you to move the rod forth and back without letting the air contaminate the puddle. We call this whip and pause. This technique can burn the zinc covering before the puddle arrives.
Furthermore, they have the lowest silicon content, preventing the zinc cracking defect.
Rutile welding rods such as the 7014 or the 6013 are also suitable for galvanized steel because they have a low silicon content. But, they cannot reach the effectiveness of cellulosic rods.
Rutile rods are not designed for the whip and pause technique. However, you can slightly manipulate the rod forth and back to burn some of the zinc.
The 6013 is the best welding rod for thin galvanized sheet metal.
The basic or low-hydrogen rods such as the 7018 are heavy-duty rods, but they have some problems when welding galvanized steel: 
Their flux contains high amounts of silicon, increasing the zinc cracking risk. That's critical since these rods are used for heavy-duty work.
Because they generate low shielding gases, they need a short (one rod diameter) and steady arc length. Otherwise, you will have porosity even on clean metal. 
Their low gas coverage also prevents wide rod manipulation to burn the zinc.
While an 7018 rod isn't suitable for welding directly over thick zinc coatings, you can use it for the additional passes of a multipass weld. That's because it will weld over the previous bead and the burned galvanized coating. Using a cellulosic rod for the root pass is ideal.
If you weld a simple project that will not take heavy stress, a 7018 rod can weld it without causing trouble. Porosity may be present but not so much to require rewelding. 
The basic disadvantages of stick welding are that it's not the easiest process for beginners, and it's hard to weld thin metals with it.
For more information, you can read these articles on stick welding rods for galvanized metals and how to stick weld galvanized steel.
Can you MIG weld galvanized steel?
MIG welding is popular but using it for galvanized steel is troublesome. 
Most single-phase MIG welding machines create a low-heat arc that cannot weld galvanized steel with acceptable results. Furthermore, typical MIG wires don't have flux material that could reduce the defects. Finally, you cannot MIG weld outside without surrounding the work with windscreens. 
Even thin electrogalvanized coatings or zinc residue on the joint can create defects to a degree that will stop you from welding. The most common defect is excessive porosity not only on the bead's surface but inside it as well.
Another troublesome situation is that spatter and smoke will cover the MIG torch. If spatter jams the contact tip, you will end up birdnesting the wire. Heavy spatter on the nozzle will make the gas flow irregularly.
Weldpundit already has a detailed article on MIG welding galvanized steel.
If you have a MIG welder, the best solution is to use a self-shielded flux-cored wire.
Can you weld galvanized steel with flux-cored wire?
You can successfully weld galvanized steel with flux-cored wires, such as the popular E71T-11. These wires generate a strong arc that can burn the zinc coating. Furthermore, the flux material has cleaning properties that prevent zinc defects. Finally, you can use them in windy environments.
The cored wires are similar to stick welding rods, but in the form of a long tubular wire filled with flux material. This way, they offer higher productivity and are easier to use.
Most flux-cored wires for low amperage welding machines are self-shielded, meaning that they generate their own shielding gases. So you don't need a gas cylinder, and you can use your MIG welder outdoors.
The E71T-11 is the most popular flux-cored wire and can weld galvanized steel with much better results than solid MIG wires. The flux inside the wire can decrease the zinc cracking risk and stabilize the arc, reducing spatter and porosity.
The E71T-14 flux-cored wire is designed for welding coated metals. It offers the best results for galvanized steel. However, it's a single pass wire up to 3/16″ (4.8 mm) thick metals. It's also harder to find and more expensive.
Their main disadvantages of flux-cored wires are:
They generate the most fumes.
It's hard to weld sheet metal, for instance, less than 1/8″ (3.2 mm).
They are expensive.
There are no cored wires with cellulosic flux material.
You can use self-shielded wires with a typical MIG welder, but remember that they need DC- polarity to work properly, not DC+ as solid wires. They also require serrated rollers because they are soft and can deform easily.
There are also gas-shielded flux-cored wires that need external shielding gas, like MIG welding. One popular wire of this type is the E71T-1.
These wires are meant for high productivity. Most of them are available on large spools and need high amperage welding machines. 
Their performance on galvanized steel is not as good as self-shielded wires, but better than solid MIG wires.
Many manufacturers produce ExxT-G wires. These wires always have different characteristics. Many of them are specifically designed for welding galvanized steel. These wires can reduce many defects, especially porosity and spatter.
Can you TIG weld galvanized steel?
TIG welding galvanized steel is troublesome because the zinc vapors rapidly contaminate the tungsten electrode. This will make the arc erratic and create porosity and spatter. TIG welding needs perfectly clean metals to work properly.
If you only have zinc residues, and you want to proceed, here are some tips:
Use a larger 70-degree torch angle and increase the gas flow by 50% or more. These will help to keep the zinc fumes away from the tungsten electrode. 
Using an ER70S-2 TIG welding rod will also improve the results. 
Use standard gas cups and avoid expensive gas lenses.
Let's see two alternatives when you have a TIG welder.
Most TIG welders can also weld with stick welding rods. Stick welding isn't suitable for thin metals but offers great results on thick galvanization.
To do this, you remove the TIG torch and replace it with a stick electrode holder (or stinger). Since most stick welding is done using DC+ polarity, you must switch the polarity because TIG uses DC- for the torch.
Another way to get good results with a TIG welder is to use braze welding rods, for instance, the silicon bronze rod (ERCuSi or SiB). These rods melt at low temperatures, so you can TIG weld thin galvanized steel with minimal coating damage.
But they are not suitable for critical welds because they cannot create welds as strong as steel rods. They are also more expensive.
Can you weld galvanized steel with oxyacetylene?
You can weld galvanized steel with oxyacetylene, but the slow traveling speed of this process will damage the coating to a high degree. Since you have this equipment, you can use the flame cleaning technique to remove the coating before welding and prevent many defects.
If you have thin metals, you can use a brazing rod and the proper flux material to braze them.
---
Welding tips for galvanized steel
Let's see some tips for improved results when welding galvanized steel:
Try to use the thickest electrode for the job. This way, you use higher amperage.
If you have a multipass weld, use the fewer passes possible.
Thick zinc coating will interfere with the workpiece (or grounding) clamp connection especially if you have a MIG welder. Try to connect it on clean metal or connect it directly on the workpiece.
Set the amperage a little higher (5%) than usual for improved arc stability and burn the zinc easier, especially when you weld fillet welds.
Use a short arc length to reduce all zinc problems. A short arc length is essential if you weld vertically to prevent liquid zinc from running into the puddle.
It's very important to weld with a reduced traveling speed depending on the coating thickness and process. Slow processes with a strong arc like stick welding need a 10-20% slower traveling speed. Faster ones like MIG welding need a 20-30% slower traveling speed. When you weld slower, the increased heat will burn the zinc coating easier, evaporate zinc in the puddle, and allow fumes to escape before the puddle solidifies.
Use a torch manipulation technique that always points the arc in front of the puddle but not over it. See the following picture.
Always fill the ending crater. If the crater is concave, the shrinkage forces may crack it, especially if zinc is trapped inside it.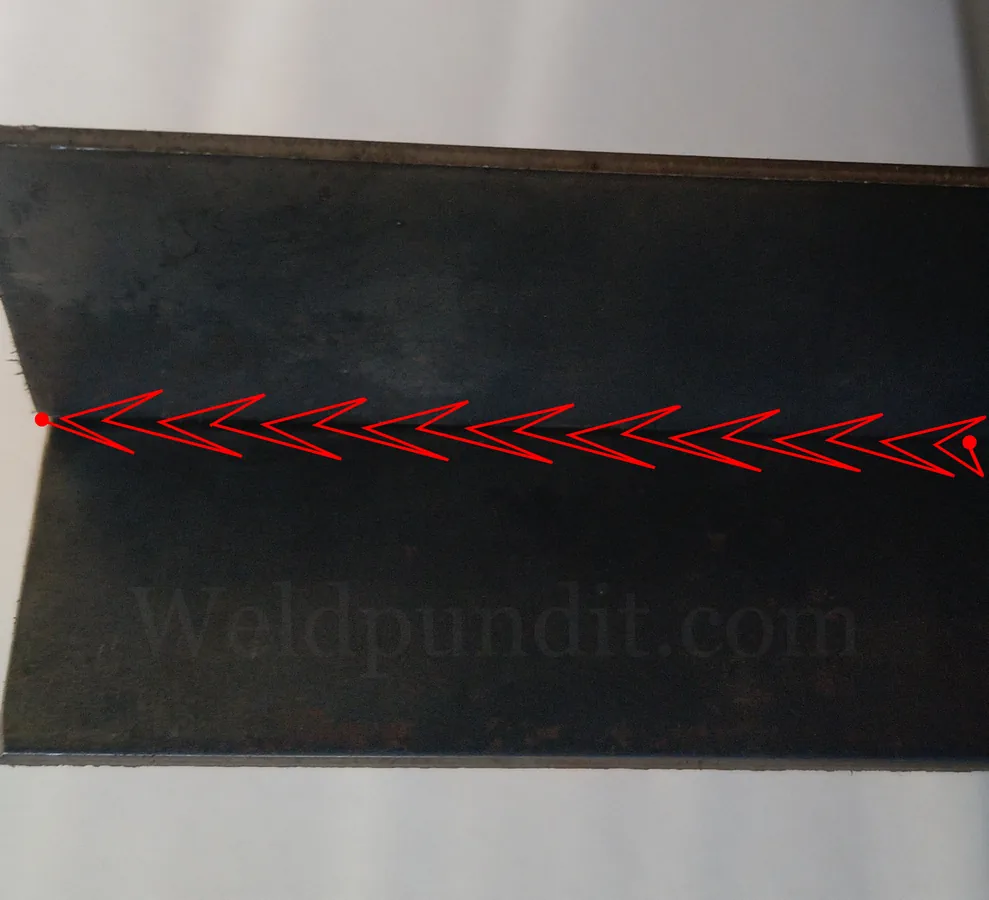 ---
Finally, let's see what to do after welding.
Will galvanized steel rust after welding?
After welding, galvanized steel will rust if you use it in a damp or wet environment. That's because you either removed the zinc coating or the welding heat destroyed it along the joint. To avoid rust, you must restore the steel's corrosion resistance.
How to protect galvanized steel after welding?
You can protect damaged galvanized steel with zinc-rich paint that offers strong rust protection and similar color. We call this cold galvanization. However, it's not as strongly attached to the metal as real galvanization and can easily scratch off.
You clean the bead and the damaged area next to it with a wire brush or angle grinder. After that, you clean it again with a rag and apply zinc-rich paint or spray.
A more effective way to clean the affected area is abrasive blasting. This way, the paint adheres stronger to the metal.
If you want to paint over galvanization, you can use suitable paints that adhere to clean galvanized surfaces without flaking. 
But ensure that you read their safety instructions first because their vapors are more harmful than typical paint.
---
Conclusion
When you want to weld galvanized steel, it's best to remove the zinc coating 1-3″ from every surface around the joint. This way, you avoid additional fumes, cracking, porosity, and other welding defects that zinc creates. 
If you cannot or don't want to remove it, use extra care to avoid inhaling the additional zinc fumes. Their high volume can cause metal fume fever.
To avoid most welding defects, use a welding process that creates an aggressive arc and consumables that combine with flux material. 
Your best option is stick welding with E6010 or E6011 welding rods. If you have a MIG welder, use self-shielded flux-cored wires such as the E71T-11.
When welding, use a slower speed and a technique that always points the arc in front of the puddle. This way, most of the zinc coating burns before it enters the puddle. Also, use wider root gaps.
Finally, you want to restore the damaged steel, especially if it's exposed to a wet environment.
---
Frequently asked questions
Can you weld galvanized steel to stainless steel?
You can weld galvanized steel to stainless steel only if you completely remove the galvanized coating. The main reason is that liquid zinc can make the stainless workpiece and bead brittle and crack sensitive.
Stainless steel is very sensitive to zinc contamination. If liquid zinc penetrates the stainless part next to the joint, it becomes brittle. Brittle metal is susceptible to cracking when it takes mechanical or thermal stress.
The same can happen to the bead since you almost certainly use a stainless filler metal for dissimilar metals, for example, the 309.
If you use grinding to remove the zinc coating, you must ensure that no zinc residue is left. Even a low amount of zinc can make the stainless metal brittle. You can remove residual zinc with a flame torch.
If you remove the galvanized coating, you can follow this article on how to weld stainless to carbon steel.
Braze welding is the safest way to join stainless to galvanized steel without removing the coating. 
The lower temperatures of braze welding cannot melt the metals and will not damage the galvanized coating as much as typical welding. This greatly reduces the risk of zinc cracking.
However, braze welding isn't suitable for heavy-duty projects that will take high mechanical or thermal stress.
Can galvanized steel be welded to carbon steel?
You can weld galvanized steel to regular steel with suitable processes, consumables, and modified welding techniques to burn off the zinc coating. However, it is recommended to remove the zinc coating of the galvanized part and weld without additional trouble. 
---
References
Nationalmaterial.com – Galvanized Steel: Types, Uses, Benefits
More Weldpundit articles