Why Won't My Welder Run 6010 Rods?
If you try to use cellulosic stick electrodes such as E6010s with a common stick welder, you will probably be disappointed. The electrode doesn't want to maintain a stable arc or doesn't start at all.
You might think that you do something wrong and check the working clamp, polarity, and so on. However, if you switch to rutile or basic (low-hydrogen) electrodes, they work fine. So why won't your welder run E6010 rods?
Modern stick welders won't run E6010 electrodes because they do not have the right components to stabilize the aggressive arc these electrodes create. All welders must have big inductors, output enough welding voltage, and inverter welders must include suitable software to handle the whole procedure.
Cellulosic electrodes (or rods) are advantageous if you want to:
Weld with good manual control joints that have open roots.
You want to weld out of position, especially vertical down. The weld metal of cellulosic rods freezes fast and stays in place.
Weld joints with tight fit-up. Cellulosic rods offer the deepest penetration and are the best for these joints.
Maintain equipment without perfectly cleaning it because you might not have the time or the joint does not need it. These rods will penetrate and weld through a considerable amount of mill scale, dirt, rust, paint, etc.
There are two types of cellulosic rods, EXX10s, and E6011s.
The E6011 rods can run with most stick welders that also run basic rods such as the E7018 or the E7016. E6011 rods are a great alternative for home or farm welding but not for professional structural work.
The incompatibility problems occur with the EXX10 rods such as the E6010s, E7010s, and so on. These rods do not contain potassium in their flux covering as E6011. Potassium helps to stabilize the arc.
Furthermore, for most welding requiring E6010 rods, you use whip and pause techniques that add extra stress to the welder. As a result, E6010 rods create an arc that is very hard to stabilize.
This problem is more noticeable to modern inverter welders, and the article will be focused on them.
---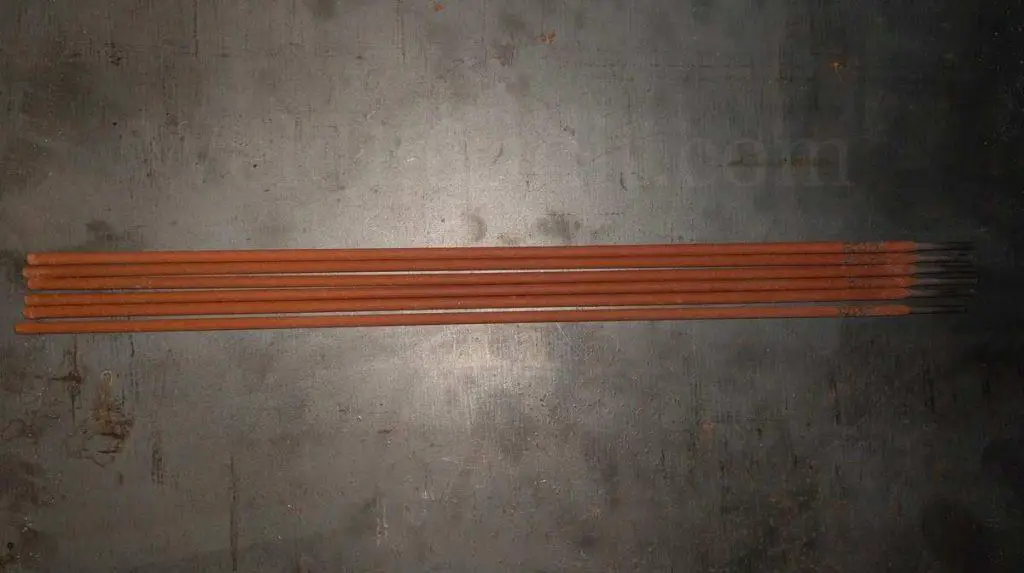 Reasons why welders cannot stabilize the arc of E6010 rods
Here are the reasons why modern inverter welders have difficulties working with E6010 rods.
1. Small inductors
Inverter technology has drastically reduced the size of all the machine's components. Small components offer the benefit of low weight and portability but also have disadvantages.
An inductor is a component in the welding machine that resists changes in the current (amperage) that passes through it.
If the current that passes through the inductor increases, the inductor "steals" the current's additional energy. The inductor converts this energy to magnetic fields around it. As a result, less current comes out of the inductor.

If the current that passes through the inductor decreases, then the inductor drops the stored magnetic fields around it and returns them as current. As a result, more current comes out of the inductor.
This process stabilizes the welding current by autocorrecting any fluctuations. As a result, cellulosic electrodes can maintain a stable arc.
Most inverter stick welding machines have small inductors by nature and cannot store or release enough energy to keep the welding current stable.
2. Low open-circuit voltage (OCV)
Open-circuit voltage (OCV) (Wikipedia) is the voltage between the electrode's tip and the base metal before the arc starts. If OCV is not high enough, the current cannot jump through the air gap and create the arc.
Many manufacturers produce stick welding machines with a low OCV for security reasons. The lower the voltage is, the harder it is for the current to pass your skin's resistance and shock you. Furthermore, they cost less to build.
But the OCV has to be high enough to start each kind of rod you want to work with. This depends on the materials in the flux coating. Cellulosic rods need more than 70V. On the other side, rutile rods such as the E6013 can start with much lower voltage, for example, 50V or even less.
Keep in mind that OCV also depends on the voltage of the mains. If you plug a dual voltage stick welder into a 120V plug, it will output a lower OCV to the working cables.
If your welding machine has a voltage reduction device (VRD), it can contribute to arc striking problems with E6010s.
3. Low arc voltage
Arc voltage is the voltage the arc has when you weld. It is much lower than the OCV, around 17-30V.
Inverter welders offer enough arc voltage for basic and rutile rods if the welder's OCV can start these rods.
However, E6010 rods need a higher arc voltage. If the welder cannot offer high enough arc voltage, the arc will be unstable, resulting in a bad weld.
4. Lack of dedicated software
While the inductors and voltage are very important factors, other components matter as well. That includes the software that comes embedded in the machine. It must be specifically designed to handle all the welding parameters to burn cellulosic rods.
That is why stick welding machines that can burn E6010 rods have dedicated buttons or options on their screen to select. After that, they go in a "special" mode to work with these rods.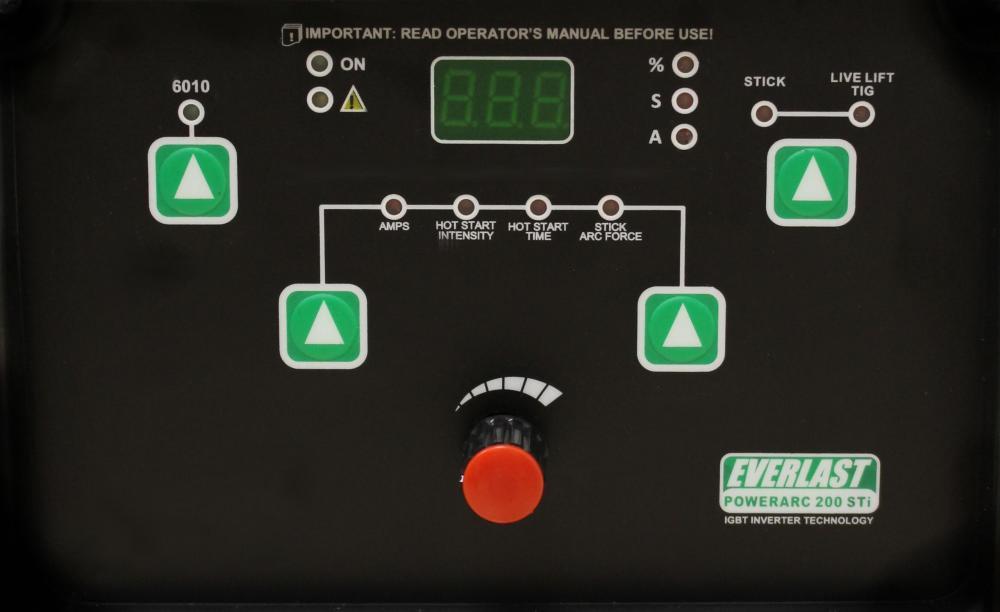 ---
Inverter or transformer welder for E6010 rods?
In case you want to buy a modern inverter stick welding machine and want to use E6010 rods with it, you better double-check it. It must specifically mention that it can burn cellulosic rods such as E6010s.
Be aware that many manufacturers specifically mention that their welders can run E6010s, but they will still cause problems if you try to weld an open root joint with them. Furthermore, cheap welders will run unknown "E6010s" from eBay but not authentic E6010s from well-known rod manufacturers.
The bad news is that inverter welders that can handle E6010s are not affordable. And in case they are out of warranty, they are too expensive to repair.
It is easier for transformer welding machines to burn E6010 rods. They have, by nature, big inductors and offer high OCV and arc voltage. No need for the manufacturer to do anything extra so they can burn E6010s. Plus that you might find a used one in good condition without breaking the bank.
But with a transformer welder, you cannot have the intelligent features inverter welders have. First, there are no safety circuits to avoid the electrical shock risk of a high OCV. After that, they do not have helpful features such as hot-start, arc-force, and anti-stick.
Furthermore, you lose the electrical efficiency and the portability of lightweight inverter welders.
A few tips on burning E6010 rods
If you have trouble burning E6010 rods, these tips might help.
If you have a welder that specifies that it can burn E6010s, but they refuse to run well, they might be too dry. If you stored E6010s close to heat sources or left them exposed to the sun for a long time, the moisture in their flux drops. They need a certain amount of moisture to burn properly. No more, no less. Try some new ones.

If your inverter welder has the arc force (or dig) feature, experiment with it, try to set it all the way down. This will force the rods to burn with a less aggressive arc, which might help burn E6010s. You will not have the same deep penetration, but you will have the fast freeze characteristics. But it's a long shot.
---
Conclusion
An inverter welding machine needs to have the correct hardware and software to run E6010 electrodes.
If you want to weld with E6010 rods and the welding machine you have at hand can't burn them, you need to find one that can or use other rods such as the E6011 if possible.
---
More Weldpundit articles
Stick Welding Electrode Selection for Beginners: Type, Size, and Amperage.
How to Choose a Stick Welder: Best Entry-Level Characteristics.
How to Store Stick Electrodes: With Tips for Home Welders.
Big List of Tools and Equipment for Welding.
Can You Weld at Home? Basic Considerations.
What Is a Welding Blanket? A Helpful Guide.